Reflections Series – a link towards taking responsibility for our impact on Society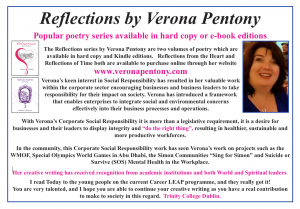 Reflections by Verona Pentony Popular poetry series available in hard copy or e-book editions.
The Reflections series by Verona Pentony are two volumes of poetry which are available in hard copy and Kindle editions.   Reflections from the Heart and Reflections of Time both are available to purchase online through her website www.veronapentony.com
Verona's keen interest in Social Responsibility has resulted in her valuable work within the corporate sector encouraging businesses and business leaders to take responsibility for their impact on society.
Verona has introduced a framework that enables enterprises to integrate social and environmental concerns effectively into their business processes and operations.
With Verona's Corporate Social Responsibility it is more than a legislative requirement, it is a desire for businesses and their leaders to display integrity and "do the right thing", resulting in healthier, sustainable and more productive workforces.
In the community, this Corporate Social Responsibility work has seen Verona's work on projects such as the WMOF, Special Olympics World Games in Abu Dhabi, the Simon Communities "Sing for Simon" and Suicide or Survive (SOS) Mental Health in the Workplace.
Her creative writing has received recognition from academic institutions and both World and Spiritual leaders.
I read Today to the young people on the current Career LEAP programme, and they really got it!
You are very talented, and I hope you are able to continue your creative writing as you have a real contribution to make to society in this regard.  Trinity College Dublin.